Meet the founders.
SlikSpeak was created in 2015 by  Steve Barook and Saul Rajsky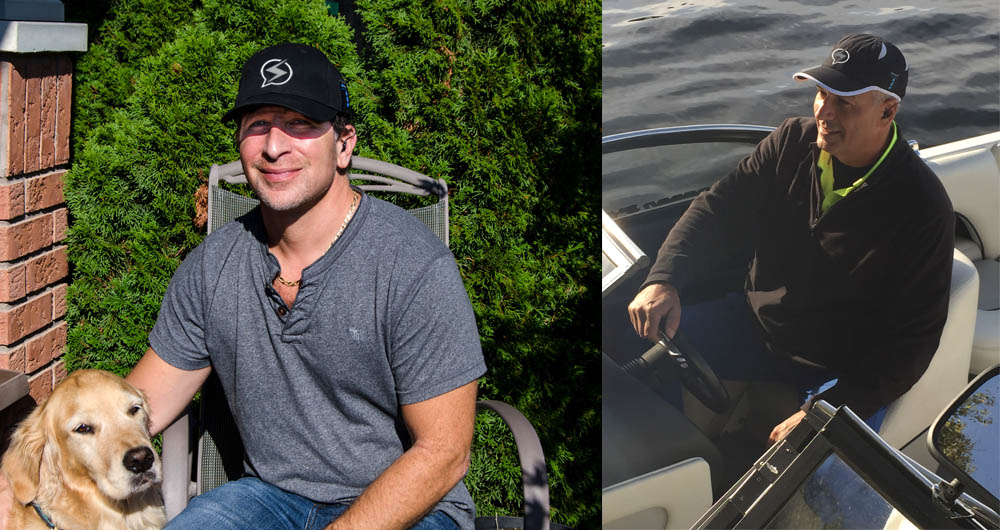 Steve is a tech and gadget guy and is super passionate about SlikSpeak because he believes it will really fill a need in the marketplace. He is also in sales so he loves being connected at all times; after all you don't want to miss a call on that big deal,but you do want to have some balance in your life and can't sit by the phone 24×7… unless you want to drive yourself crazy. So as you can imagine the driving force and inspiration behind SlikSpeak is that Steve wanted to stay connected and hands-free while working out, hiking, mountain biking , running or even just while walking the dog.
"I use my SlikSpeak knit hat every morning and night when I take Honey for a walk; no not my wife, but my Golden Retriever.  People don't know I am using the SlikSpeak hat when I am talking to them on those cold windy days because the sound quality and microphone are amazing.  As an added bonus, you never have to take your hands out of your pockets or juggle a phone, a leash and, you know the doggy doodoo bag."
Saul on the other hand always loves a challenge and he keeps Steve grounded in reality as to what can actually get made.  He truly understands manufacturing and knows how to get things made on time and on budget. Saul loves playing golf and uses the running cap during his games so he can leave his phone in the golf cart but still say connected.
Saul has a keen sense of style and understands the clothing market.  He is not really a tech guy but believes:
"If I can use these products anyone can."
Why we think we can do this!
Backgrounds:
Steve Barook is a founding partner of Another Bright Idea Sourcing LTD.  He has successfully launched innovative products in the marketplace selling them to National Retail chains.  Steve's background is in sales and technology.  He worked for Apple Computer as a Systems Engineer and has launched two successful online technology based companies.  Steve's experience over the past 24 years in Corporate Sales has given him a strong foundation to work with large companies solidifying enterprise projects. His focus on customer delight is at the forefront of all his dealings and prides himself on anticipating their requirements often before they even know they have them.
Saul Rajsky is a seasoned serial entrepreneur with over 30 years of experience in the apparel trade, both in manufacturing as well as importing. After graduating from University in 1981 he worked for The John Forsyth Company, one of Canada's largest garment manufacturers and importers. From 1985-1996 he owned and operated a group of apparel manufacturing companies (Round 2 Clothing, Lantana Fashions and The Clothing Network) which won accolades as "One of the Fifty Best Managed Private Companies in Canada" in 1994. From 1997 until it was sold in 2013 he was the CEO and major shareholder of Streetwear, a publicly traded apparel manufacturer.  In 2002 he opened a buying agency in China (The Ranik Group) that became Nike's buying agent there for 10 years.